Healing of Magic
"Magic wands don't always belong with black hats and rabbits. Sometimes they belong in hospitals where frail hands learn tricks and the magic is in the healing."

Do you believe in magic? Kevin and Cindy Spencer do. They believe in it so much that they've taken their skills as illusionists beyond the level of performance. Since 1984, they've been spreading the word about using magic tricks as a healing tool for the physically challenged through a special program called HEALING OF MAGIC.

The Spencers don't claim to have originated the idea to use magic as a tool in rehabilitation medicine, but they have greatly expanded upon the concept. And through their efforts, new treatment modalities are being explored and used to effectively improve the everyday skills of people who have experienced strokes, accidents, spinal cord or head injuries, learning or developmental disabilities, visual deficits, psycho-social disorders, those who have problems with alcohol or other drug abuse, and many other diagnoses.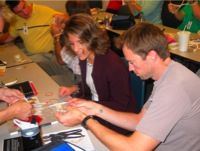 For someone who has been labeled "disabled" by society, learning to do something that "able-bodied" people cannot do, such as a magic trick, provides them the opportunity to feel special and offers a tremendous boost to their self-esteem. The Spencers explain, "People who may not have been motivated to re-learn skills of daily living often become enthusiastic about learning magic tricks. The movements required to learn the tricks help them achieve new skill levels while increasing motivation and self-image. They not only improve motor, cognitive, and perceptual skills, they experience that all-important feeling of self-worth and satisfaction."

The concepts of the HEALING OF MAGIC have been approved by the over 50,000 members of the American Occupational Therapy Association and have been featured in a number of publications such as the American Medical News Journal, Health Care, The Washington Post, the New York Times, and Health magazine.

For their endeavors, they were honored to receive the Harry Chapin Award for Contributions to Humanity for their work in the field of rehabilitation medicine. Today, the HEALING OF MAGIC project has been explored and implemented in more than 2,000 facilities in over 30 countries. And numerous research projects have validated its therapeutic value.


Recently, the program has expanded again into the area of special education. HOCUS FOCUS is a comprehensive curriculum available to teachers to provide them with a visual, exciting, and motivating way to allow students to safely explore skills levels, improve existing skills, and develop new ones. One of the most important factors for achieving success for the student is to make the learning process as tangible and visible as possible teaching facts/concepts they can see, touch, manipulate, and talk about. HOCUS FOCUS provides students with the opportunity to improve oral and written expression, listening and reading comprehension, reading skills, and mathematical calculation and reasoning. But, above all else, it is critical that they never feel degraded or embarrassed, especially in front of their peers. HOCUS FOCUS allows them to acquire a skill that most other students cannot perform achieving self-efficacy and improving self-concept.

For the Spencers, magic is truly more than an illusion, a stage performance, or just a way to make a living. It is a way to make a difference in the lives of their audience and those they work with in hospitals and rehabilitation centers around the world.